Monoclonal Antibody Production Service
Hybridoma Production
Your hybridoma generation is done with our custom monoclonal antibody production service using mice or rats as well as any antigen. Four different antigen concentrations are applied for the vaccinations to achieve the best effect. This guarantees that the immune system responds optimally. For the fusion, the spleen from the mouse with the highest titer will be utilized.
Step by Step Antibody Development
Davids provides you the option to begin or end with each step of the antibody development. For example, you may execute the vaccination at Davids and then obtain the spleen cells or hybridoma to perform the fusion or screening in your lab.
Individualization of Antibody Production
Each customer's monoclonal antibody development is highly personalized. We can modify our protocols to meet your specific requirements. Immunization protocols, screening conditions, and additional screening substrates are all examples of this. Please let us know at the start of the project if you want us to screen with several antigens (for positive or negative screening).
Antigen Requirements for our Monoclonal Services
Davids successfully used many antigens to develop monoclonal antibodies. Customer-supplied proteins and peptides that represent protein epitopes are the most frequent antigens for monoclonal antibody generation. Please consult our table for the requirements for the antigens. It is possible that you may submit us your antigen for vaccinations first, followed by the antigen required for screening. In this way we can screen with a different antigen compared to the immunization antigen. If your antigen is expensive or difficult to generate, please contact us for effective immunization and screening to reduce the amount of antigen required.
Antigens for the Development of Monoclonal Antibodies
Antigen
Amount
Instructions
Shipping
Protein
2 - 3 mg
0.3 - 2 mg/ml
We use your protein for the immunization and Screening
-20°C (ice packs) to -80°C (dry-ice) or lyophilized
Protein Expression
-
We produce your antigen
You can ship your expression plasmid at -20°C
Peptides
3 - 5 mg
0.3 - 2 mg/ml
We can synthesize and conjugate your peptides or use your ones
Lyophilized or with ice packs
Cells
106 - 107 cfu / immunization
Use our cell immunization kit to prepare for immunizations
Please contact us when you want to send cells
Small Molecules
1 - 10 mg
0.3 - 2 mg/ml
We prepare your small molecules for the immunization
Please contact us when you want to send small molecules
For Affinity Purification we need additional >0.5 mg protein, 3 mg peptide or 108 cfu
STEP 1: Immunization
2 - 4 months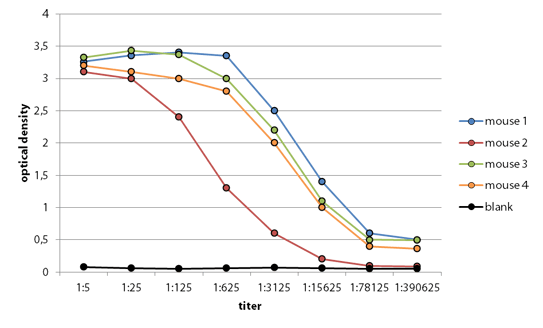 To induce a wide range of immunological responses, we immunize four BALB/c mice or three black hooded rats with different antigen concentrations. We use ELISA titers to determine which animals have the best reaction. You can also obtain an aliquot of the test bleed to identify the optimal titer in your lab. With your approval, we will continue with the immunizations or begin the fusion and screening.
Monoclonal Antibody Immunization Schedule
STEP
Day
Description
STEP1: Immunizations
Preimmune
Day 0
1st Immunization
Day 1
2nd Immunization
Day 14
3rd Immunization
Day 28
Test Bleed & ELISA titer determination
Day 35
4th Immunization
Day 42
5th Immunization
Day 56
Test Bleed & ELISA titer determination
Day 63
Preparation for fusion when titer is good
6th Immunization
Day 70
Optional
7th Immunization
Day 84
Optional
8th Immunization
Day 98
Optional
Test Bleed & ELISA titer determination
Day 112
STEP 2: Spleen Cell Isolation & STEP 3: Fusion
1 day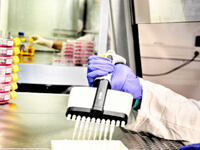 The animal with the best immunological response is given a last immunization to stimulate the production of antibody-producing cells. Spleen cells are isolated for direct fusion with immortal myeloma cell lines. As a backup, a part of the spleen cells is cryopreserved. The three remaining animals are held until the fusion is complete. You can also acquire isolated spleen cells if you want to perform direct fusion or RNA isolation in our lab.
STEP 4: Screening
2 - 4 months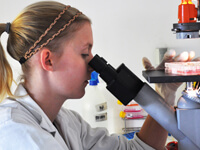 Davids cultures all fusion cells and screens for positive clones (alternative screening methods are available). Positive clones are cultivated in flasks and screened for antigen specificity, viability and stability. Multiple antigen screening (both positive and negative) is offered. The most promising clones are isolated and cryopreserved.
You will receive small aliquots of purified antibodies from the best clones (up to 10) for your own use and to decide which clone is best for subcloning. In addition, you will obtain our screening protocol, as well as the screening raw data for your protocols. You can get raw clones before subcloning and do subcloning in your lab, or you can work with raw clones.
STEP 5: Subcloning
1 - 2 months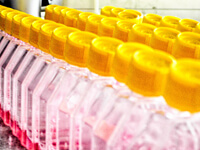 We use the limited-dilution method for subcloning, which assures that the clone is genuinely monoclonal and increases long-term stability. Following subcloning, you will receive all clones either frozen or in cell culture for your own lab. After payment, the purchaser owns the rights to the clones and antibodies created during this project.
Clone backup storage for 6 months is provided and additional storage is possible. This allows you to request antibody production and purification from your antibody generating clones in our lab.
Production & Purification of your Antibodies
1 - 2 months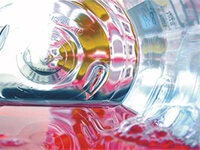 The production and purification of antibodies is available from your hybridoma (antibody generating clones) stored in our lab or hybridoma cells that you sent to us. Davids developed several purification procedures for IgG, IgM, and other subtypes. Visit our Monoclonal Antibody Production page for more details.

Additional Services
We provide a variety of supplementary services to meet your specific requirements. We offer in vitro immunizations or the incorporation of hazardous and toxic antigens into liposomes. You can also get isolated cells from bone marrow, spleen, lymph nodes, and PBMC. Our monoclonal immunization service M001 includes ELISA raw data.
Additional Services for Monoclonal Antibodies
| Cat.No. | Description | Amount | Price |
| --- | --- | --- | --- |
| A057 | Additional Small Bleed | Animal Depending | Please ask |
| A705 | Additional ELISA Raw Data incl. graph | From 1 Bleed | Please ask |
| N101 | Spleen Cell Isolation | 1 spleen | Price List |
| N201 | PBMC Lymphocyte Isolation | 1 antiserum | Price List |
| N301 | Bone Marrow Cell Isolation | 1 animal | Price List |
| N401 | Lymph Node Cell Isolation | 1 animal | Price List |
| M006 | Subclass Determination IgM/IgG | 1 clone | Price List |
| M008 | Storage of cell line for one year | 1 clone, 3 vials | Price List |
| M302 | Mycoplasm Test (PCR) | 1 cell culture | Price List |
Order Process
You can request an offer for your monoclonal antibodies by emailing info@davids-bio.com. We keep the ordering procedure as easy as possible. Please send your antigen to:

Davids Biotechnologie GmbH
Roentgenstrasse 3
93055 Regensburg
Germany

Immunizations generally start within 5 days after the antigen arrives. To accelerate the procedure and assist us in matching your antigen with your purchase, please supply the following information:

Your Antigen
Concentration & Buffer Conditions of your Antigen
Our Offer, our order form or your official PO
VAT number (only EU customers, not required for German customers)
If you want to order peptide antibodies just send us your protein sequence and we suggest you peptides that represent your protein. For more information: Peptide Antibodies