Polyclonal Phosphospecific Antibody Production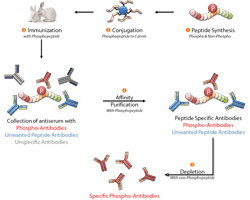 Phosphorylation has been determined to be essential in the regulation of protein activity and stability. Phospho antibodies can detect the phosphorylation state of a protein. Serine, Tyrosine, and Threonin are examples of amino acids that can be phosphorylated. Our phosphospecific antibody service comprises all stages for producing anti-phosphotyrosine, phosphoserine, or phosphothreonin specific antibodies:
After synthesis and conjugation of the phosphospecific peptide (1) the animals are immunized (3) with the conjugated phospho-peptide (2) to produce antibodies. After antibody production the serum is affinity purified with the phospho-peptide to get specific antibodies (4). In this stage of the process there are still some antibodies recognizing the non-phosphopeptide. A depletion is required to get rid of these undesired antibodies. A non-phosphopeptide depletion matrix is used to deplete the affinity purified serum. As a result, phosphospecific antibodies are produced (5).
Peptide Synthesis

Our scientists will assist you in identifying peptides that represent your phosphospecific antigen. Our analysis is based on solubility, antigenicity, epitopes, and our proceeding expertise. Send us your protein sequence in the form of a one-amino-letter code and the annotated desired phosphorylated amino acid. We recommend peptides that are advisable for your project. An order is only placed when you confirm the peptides.

Following your order, we proceed with the synthesis of the phosphorylated and non-phosphorylated peptides. To increase antigenicity, the phosphorylated peptide is conjugated to a carrier prior to immunization. Antigen specific purifications is carried out using the phospho-peptide. The non-phospho-peptide is used in depletion to remove undesirable antibodies. You will be supplied an aliquot of each peptides to use in your research.
Immunization

Immunizations are performed with the conjugated phosphopeptide. Our comprehensive service A061 covers the vaccination of two rabbits. We recommend immunizing two rabbits since the affinity purification and depletion processes remove a lot of unspecific antibodies.
We take a test bleed after three vaccinations to measure the titer. You can obtain an aliquot of this test blood in order to determine the titer in your own laboratory. We take the last bleed after two more immunizations during our 63-day program. Additional immunizations are hardly required. You can, however, order them if desired.
Affinity Purification and Depletion

All peptide-specific antibodies are captured during affinity purification with the phosphopeptide. This fraction contains antibodies that recognize the phosphopeptide as well as antibodies that detect non-phosphopeptides. To get rid of the last ones, we use a non-phosphopeptide depletion. Phosphospecific antibodies are the final result.
Antibodies for Amino Acid Modifications
The same technique that is used to generate anti phospho antibodies with phosphoserine or phosphotyrosine may be used to create specific antibodies with other amino acid modifications such as acetylation, glycosylation and others.
Order Process
Davids keeps the ordering procedure as easy as possible. Please send your peptide or protein sequence to: info@davids-bio.com. All data is handled confidentially. If you want to provide the peptides you can send them to the following address:

Davids Biotechnologie GmbH
Roentgenstrasse 3
93055 Regensburg
Germany

We begin vaccinations as soon as the synthesis is completed. Please provide the following information:

Your antigen, your peptide sequence
Concentration & Buffer of your antigen, if available
Our offer, our order form or your official PO
VAT Number (only EU customers, not required for German customers)